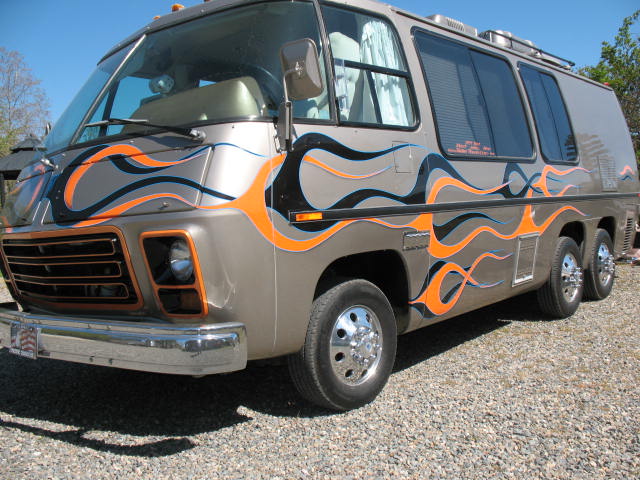 1977 GMC 23' (Front Wheel Drive)
Restored Motor Home
Remember "The Urban Assault Vehicle" from the 1980's cult movie, "Stripes" with Bill Murray? Well, this is it!
It's the Blue Angels and The A-Team rolled into one, a low and sleek sports coach that stunned the RV industry when it launched in late 1972. Today, exactly thirty two years after production stopped, the GMC Motorhome is becoming a cult icon.
The GMC is the muscle car of the RV world. It holds the land speed record for motorhomes, clocking 106mph at Bonneville last year. It's been immortalized several times as a Hot Wheels toy. It's even had a movie career, starring in the 1981 Bill Murray comedy Stripes. But for those of you who grew up in the 70s, the GMC will always be known as Captain America's van. That's pretty remarkable for an RV that only had a six-year production run. But there are many, many remarkable things about the GMC. For starters, it was the first RV created and built by an automaker—and to this day, no other automaker has taken that risk.
Because my below GMC is the last of the 23', big engine GMC's it is VERY easy and peppy to drive. It literally floats on its air bags and is SUPER smooth. It handles like a van and can navigate even the tightest suburban cul-de-sacs!! Unlike a 26' GMC or other motorhomes you are NOT land locked looking desperately for an "out"!!! I know, as I also own a 40' diesel pusher. Driving my pusher I am constantly looking for a way out BEFORE I even attempt to drive down a road or enter a shopping center! But not with my Hot Rod GMCJ Piece of cake!!!
We even load up a dozen friends and view the winners of the local Christmas Light Home contest every year without fear of getting stuck (land locked) in a typical, suburban, tract house neighborhood. Try that in any other Motorhome!
This "blast from the past" is rattle free and turns heads everywhere!
For price, specs and pictures please see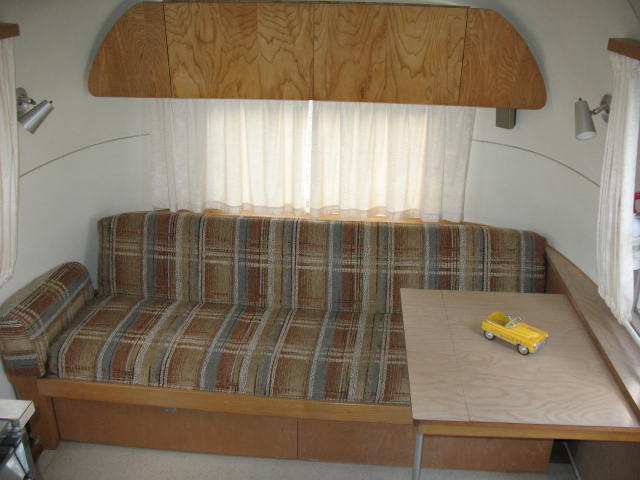 1966 Airstream Tradewind 24'
ALL Original in virtually PERFECT condition
This "Blast from the Past" was stored inside for most of its life and NEVER used. We're calling this one
"The Real Deal"!
It is very rare to find a vintage beauty in this condition. The upholstery, curtains, wood, counter Formica and linoleum flooring looks like the "light of day" has never touched it. There is absolutely no fading, scratches or blemishes of any kind. Even the upholstery foam is in great condition. Try that in an all original 1966 Chevy!!
There are a few things that we are going to fix before it leaves. It will get an
AWESOME
outside polish (costing $4800).The bathroom needs the new toilet and sink plumbed and sink painted. A new 110v to 12v convertor will be installed, new propane tanks / regulater and a couple of outside access panels will be replaced with period perfect ones. It will leave with the usual
www.VintageTrailerCrazy.com
"bling".
This vintage beauty pulls super straight and the trailer brakes work so well that it will even STOP your tow vehicle as well!!!
Pics can be viewed at
Priced very conservatively at $22,500